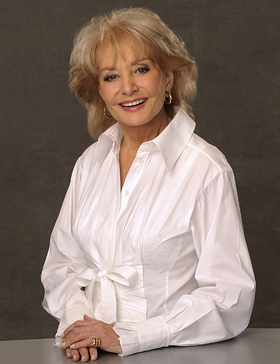 Legendary journalist Barbara Walters is giving a major gift to her alma mater, Sarah Lawrence College–$15 million to build a new campus center!
According to Look To The Stars, Barbara, along with her charitable trust, is donating the money to create The Barbara Walters Campus Center on the college's campus. The gift is the largest single donation in the university's history.
The Barbara Walters Campus Center, will be "the hub of student life and campus community," with plans to include both social and academic areas. It will be a building that will hold large campus events, and will include lounges, dining facilities, the College's radio station, a media innovation lab, areas for career services, and student clubs. The center will also permanently house the Barbara Walters Archives (including edited video interviews, edited transcripts, and personal letters from the notable subjects of her interviews), which Walters announced was being donated to the College in May 2014, and the Barbara Walters Gallery, which is currently in the College's Heimbold Visual Arts Center.
"The Barbara Walters Campus Center will stand as a tribute to Barbara Walters and her belief in the power of a Sarah Lawrence education," said President Karen R. Lawrence. "This remarkable woman has changed the face of broadcast news by establishing her unique genre of the investigative, long-form interview. She is a powerful role model for our students, and we deeply appreciate her generosity, her vision, and her many contributions to the College. This transformative gift will enable us to create a powerful magnet on campus – gathering spaces large and small – in which community will flourish at Sarah Lawrence College."
"When I donated my archives to Sarah Lawrence last year, I told the graduating class at Commencement that at Sarah Lawrence I learned to ask questions," Barbara said. "I attribute my success, in many ways, to the curiosity and confidence I came away with from this remarkable college. Today I am pleased to be able to make The Barbara Walters Campus Center a reality for future generations of Sarah Lawrence students."
Image via Donna Svennevik/ABC